customer has not logged in 0 -
global:salesrep
global:admin_user_id 0
global:admin_user_administrator 0
global:admin_user_create 0
global:session:user_id
global:session_type
global:session_id a9d13a923660a68a2b15489589c2b646
global:basket:cussess_id:
global:basket:affsess_id:
global:basket:chksess_id:
global:basket:basket_id: 3750305
global:basket:session_id: a9d13a923660a68a2b15489589c2b646
[1]=data_opened,[2]=domain,[3]=store,[4]=store_table_prefix,[5]=user,[6]=session,[7]=basket,[8]=customer,[9]=error_code,[10]=error_message,[11]=prv_log_file_name,[12]=admin_user_id,[13]=admin_user_administrator,[14]=admin_user_create,[15]=library_filename_native_dbapi,[16]=mm5_config_initialization_globals
Not sure what you need? Contact us prior to your purchase for a free, system analysis. Discounted rates may be available. Click here to contact us, or click the orange, free offer button below to get started!


Cordless Operation
Operate your furniture without a power outlet for up to 2000 motorized functions*


Quickly Identify Levels
LED Power indicator lets you know just how much power you have.


Low Power Buzzer Alert
This buzzer is an audible reminder the Power Pack needs to be recharged soon.


Tested & Retested
Lithium Ion Polymer Universal Rechargeable Power Pack is heavily tested for reliability and safety.


Safety First
Each Power Pack carries multiple certifications allowing for safe storage and quick transport throughout the World.


Innovative Technology
The Entelligent™ Remote Power Management System offers another level of control for your pack. Available on select models, only. Look for the Entelligent mark.
The most compact and efficient universal rechargeable power pack in the marketplace for power motion furniture and adjustable beds.
The patented E4 Power Pack from Enouvation offers you the ability to CUT THE CORD on Power Motion furniture. This gives you the ability to float a Power Motion piece of furniture without having to see those unsightly, industrial cords. The E4 will give your Sofa with Power Headrests approximately 400 cycles and Recliner 800 cycles before having to recharge. Enouvation Power Packs are tested to multiple UL standards and certified, having gone through rigorous testing. They are the most efficient battery in the marketplace with more power at a fraction of the size. Each Power Pack comes with its own charger in box.
An E cable is always recommended for ease of use.
Contents:
1 Enouvation Power Pack
1 Enouvation Charger
1 Product Instruction Sheet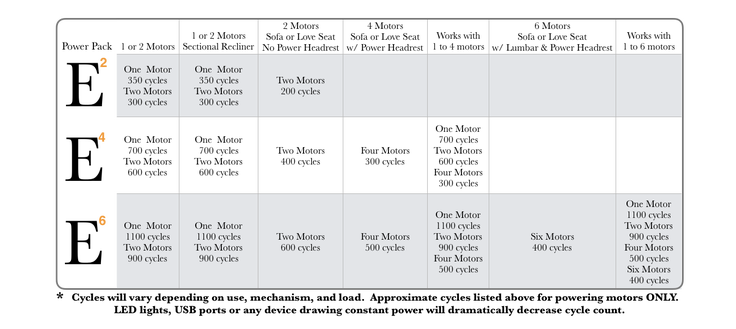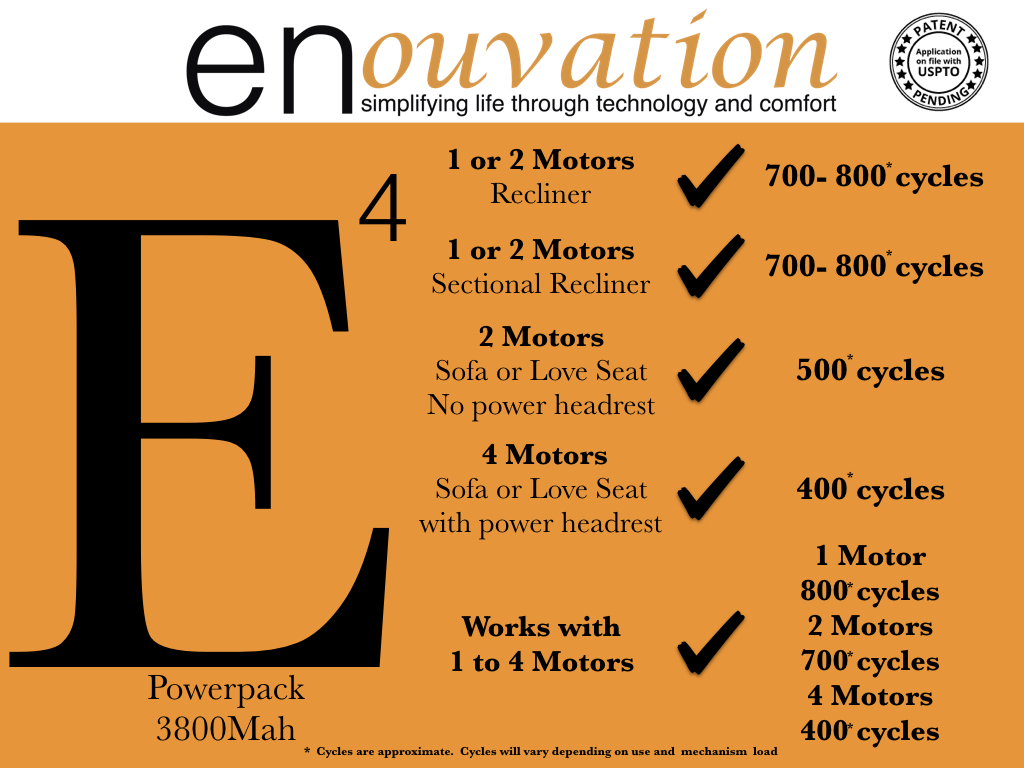 Product package dimensions: 2.5x 5x 8.5