customer has not logged in 0 -
global:salesrep
global:admin_user_id 0
global:admin_user_administrator 0
global:admin_user_create 0
global:session:user_id
global:session_type
global:session_id cb6cd4f6737fffb502be270b4403328b
global:basket:cussess_id:
global:basket:affsess_id:
global:basket:chksess_id:
global:basket:basket_id: 1242782
global:basket:session_id: cb6cd4f6737fffb502be270b4403328b
[1]=data_opened,[2]=domain,[3]=store,[4]=store_table_prefix,[5]=user,[6]=session,[7]=basket,[8]=customer,[9]=error_code,[10]=error_message,[11]=prv_log_file_name,[12]=admin_user_id,[13]=admin_user_administrator,[14]=admin_user_create,[15]=library_filename_native_dbapi,[16]=mm5_config_initialization_globals


Cordless Operation
Operate your furniture without a power outlet for up to 1100 cycles*


Quickly Identify Levels
LED Power indicator lets you know just how much power you have.


Low Power Buzzer Alert
This buzzer is an audible reminder the Power Pack needs to be recharged soon.


Tested & Retested
Lithium Ion Polymer Universal Rechargeable Power Pack is heavily tested for reliability and safety.


Safety First
Each Power Pack carries multiple certifications allowing for safe storage and quick transport throughout the World.


Bluetooth Conversion Kits
The Enouvation Universal Bluetooth Receiver turns your smartphone or tablet into a wireless remote for your favorite seats in the house.
The most compact and efficient universal rechargeable power pack in the marketplace for power motion furniture and adjustable beds.
The E4 Power Pack from Enouvation with patents pending, offers you the ability to CUT THE CORD on Power Motion furniture. This gives you the ability to float a Power Motion piece of furniture without having to see those unsightly, industrial cords. The E4 will give your Sofa with Power Headrests approximately 400 cycles and Recliner 800 cycles before having to recharge. Enouvation Power Packs are tested to multiple UL standard and certified, having gone through rigorous testing. They are the most efficient battery in the marketplace with twice the power, half the size. Each Power Pack comes with its own charger in box.
An E cable is always recommended for ease of use.
Contents:
1 Enouvation Power Pack
1 Enouvation Charger
1 Product Instruction Sheet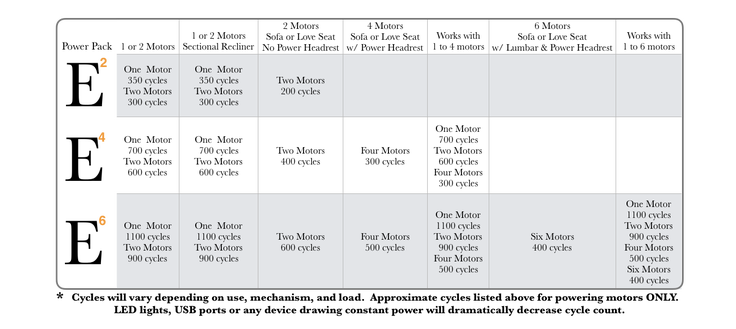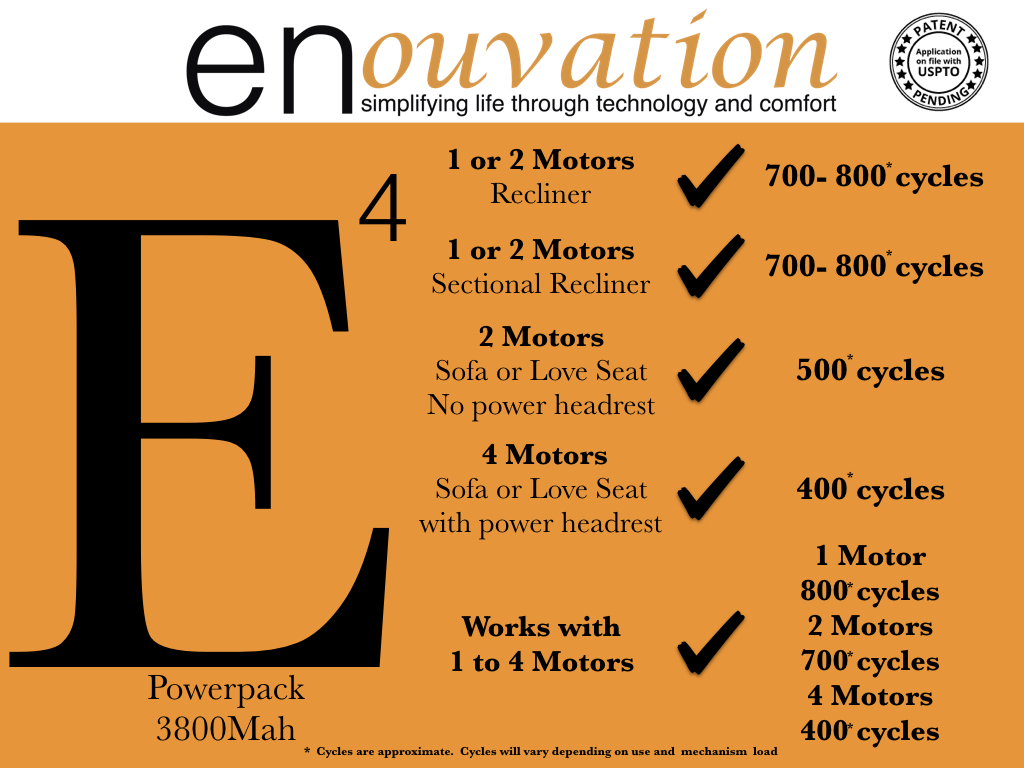 Product package dimensions: 2.5x 5x 8.5