customer has not logged in 0 -
global:salesrep
global:admin_user_id 0
global:admin_user_administrator 0
global:admin_user_create 0
global:session:user_id
global:session_type
global:session_id f07fb6f4e2075332a724ba12b9685b12
global:basket:cussess_id:
global:basket:affsess_id:
global:basket:chksess_id:
global:basket:basket_id: 4295814
global:basket:session_id: f07fb6f4e2075332a724ba12b9685b12
[1]=data_opened,[2]=domain,[3]=store,[4]=store_table_prefix,[5]=user,[6]=session,[7]=basket,[8]=customer,[9]=error_code,[10]=error_message,[11]=prv_log_file_name,[12]=admin_user_id,[13]=admin_user_administrator,[14]=admin_user_create,[15]=library_filename_native_dbapi,[16]=mm5_config_initialization_globals
Not sure what you need? Contact us prior to your purchase for a free, system analysis. Discounted rates may be available. Click here to contact us, or click the orange, free offer button below to get started!



Cordless Operation
Operate your furniture without a power outlet for up to 2000 motorized functions*


Quickly Identify Levels
LED Power indicator lets you know just how much power you have.


Low Power Buzzer Alert
This buzzer is an audible reminder the Power Pack needs to be recharged soon.


Tested & Retested
Lithium Ion Polymer Universal Rechargeable Power Pack is heavily tested for reliability and safety.


Safety First
Each Power Pack carries multiple certifications allowing for safe storage and quick transport throughout the World.


Innovative Technology
The Entelligent™ Remote Power Management System offers another level of control for your pack. Available on select models, only. Look for the Entelligent mark.
The most compact and efficient universal rechargeable power pack in the marketplace for power motion furniture and adjustable beds.
At 5,000 mAh, the Enouvation E5 Power Pack offers great capacity in the smallest footprint available providing up to 1,000 motorized functions on a single charge.*
Like all Enouvation Power Packs, the E5 is tested to multiple UL standards and certified, having gone through rigorous testing. It includes all standard features found in previous models including LED Power Indicator and interactive low power alert. Each Power Pack comes with its own charger in box.
Unplug to Reconnect™! Take advantage of the optional Remote Power Management features by using our Entelligent App. Quickly visualize your pack's power level, review charging history, receive low power alerts/recharge reminders, and shut off power remotely in the app to conserve power when your pack is not in use. For more details review our Power Management App Guide and FAQs.
An E cable is always recommended for ease of use.
Contents:
1 Enouvation Power Pack
1 Enouvation Charger
1 Product Instruction Sheet
*Functions are approximate and will vary depending on use and mechanism load. Any feature requiring constant power including lights, static touch buttons, and USB ports will dramatically decrease function counts and increase charging frequency. For more info, click "contact".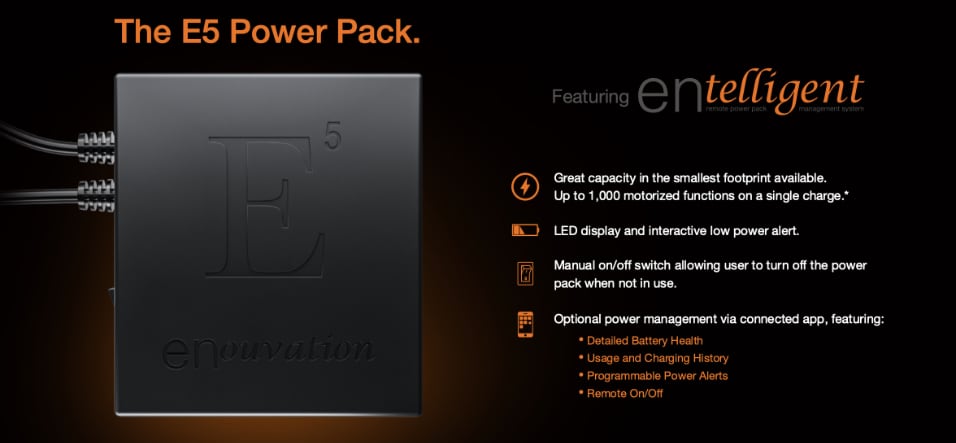 Package Dimensions: 8.2" x 5.1" x 2.5"
Product Dimensions: 4.2" x 4.6" x 2.1"
*Holiday 2023 Savings Promotion: Offer is valid in the United States, only through 11:59 PM PST December 31, 2023. Buy one or more E5 OR E10 (Entelligent) Power Packs and receive a $50.00 discount on each pack purchased when using code "HOLIDAY23" at checkout. Qualifying Power Packs include E5 and E10 only. Offer may be combined with "Free Shipping on Orders Over $150.00". Offer may not be combined with "Buy More, Save More" Promotion. All qualifying items must be added to cart before checkout to claim this offer. Discount to be applied once qualifying items are in cart and promo code is entered in the ADD PROMO CODE FIELD at checkout (NOT GIFT CERTIFICATE). Offer is only valid at https://www.enouvation.com. This offer does not apply to previous purchases or any applicable taxes. This offer is nontransferable, cannot be redeemed for cash, promo codes, or credit. Returns may be issued in accordance with the policies at: https://www.enouvation.com/customer-service/. Refund amounts to be calculated based on returned item(s) and active discount tier. Enouvation reserves the right to extend, modify, reduce, or cancel this promotion at any time.